Coronavirus Notice
Due to COVID-19, there are no face-to-face classes until further notice. For more information about any class or to book a virtual lesson, please contact Betty.
If you would like to take up Tai Chi I offer the following classes. I also offer one-to one sessions where I can tailor the content to suit your needs.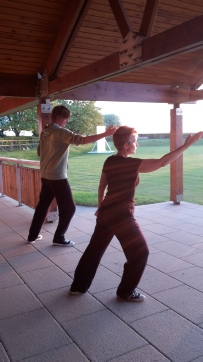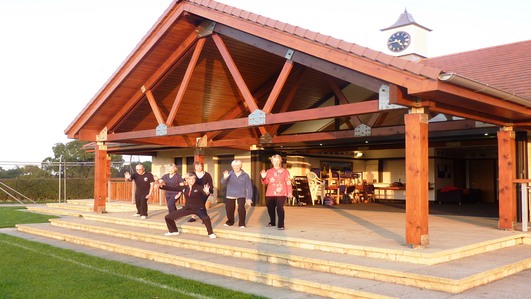 LEEDS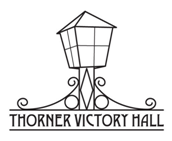 Thorner
Thursday morning from 10.30 until 11.30am. 'pay as you come'.
To enrol please contact Betty
Adult Classes available in the Victory Hall, Thorner, Leeds.
A lovely class for adults who benefit from relaxed movements to improve physical wellbeing, with health boosting sequences from Tai Chi and Qigong.
I had a lovely time at the Thorner Gala in June 2016, to promote the class. I demonstrated my new discipline; 'Fan Form'. The Fan demonstrates the Art of Tai Chi beautifully but with real Martial impact, you wouldn't think you could defend yourself with a fan!. Thanks to Glyn Townley and Paul Underhill www.cravenclinic.co.uk for their teaching.
NB: Although this form is not Wudang Tai Chi, I understand it is a Chen style form and demonstrates lots of the Wudang attributes i.e., martial, energetic, high and low postures.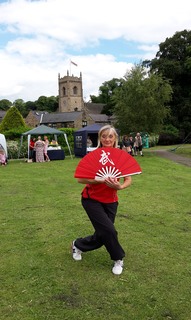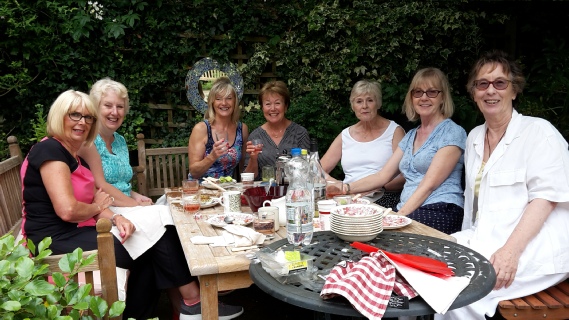 Thorner Summer luncheon in Jills beautiful garden -treat
YORK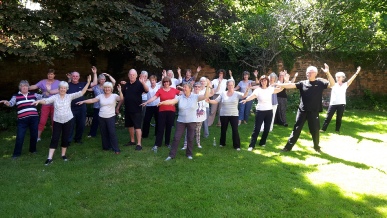 St Oswald's Church Hall
Fulford, York YO10 4HJ
Monday morning 10.30-11.30am. 'pay as you come'
To enrol please contact Betty
Tai Chi Classes for 'The Golden Years' run by UK Tai Chi. The Tai Chi class in Fulford was initially established by the City of York Council EngAGE 50+. CYC continue to signpost and recommend this class to the public and patients from York Hospital and local physicians (see website - http://www.york.gov.uk) .
This class is held in a lovely hall with an ambience conducive to learning. Gentle movements to improve balance, physical fitness and general wellbeing, a lovely way to start the week.
The class continues to go from strength to strength. Now in its 5th year students of all levels are training in Long Hand Form.
To enrol please contact Betty
City of York Council - York Learning, Huntington High School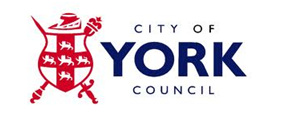 Wednesday evenings:
Improvers class 6.15-7.15pm
Beginners 7.15-8.15pm.
Run by City of York Council, York Learning team, this class runs term times.
Ideal for learners who would like to improve health and general fitness - we work hard!
The Improvers class is now in its 3rd year with 12 regular students attending, they have also gone on to Weapons training which takes place regularly out with the school.
For more details and to enrol, please contact York Learning tel: 01904 552806
Locations for all classes see: Adult Classes - Directions
Evaluation
York Learning monitor and evaluate their tutors against a variety of parameters.
This is a report from one of her regular classes in Huntington High School in York
Strengths: Learners enjoy their learning and all attend regularly. They also use the class to develop their own personal wellbeing and learners report that they had take this learning beyond the classroom to develop regular practice. All learners were completely engaged throughout the hour long session.
Quality of Teaching: Good clear instructions, the tutor speaks very calmly in a reassuring voice, offers explanations and demonstrations. She (Betty) begins the session by re-capping on previous weeks learning then builds up learner's knowledge step by step and re-enforces learning by repeating exercises. She also uses similies very well and talks about the reasons why the different movements are made. Individual advice is offered when it is needed. She is also very positive with her feedback to the group. and shows particular care with regards to health, safety and wellbeing. Stressing that a learner should work within their own limitation and also aware of individual health issues.
Effectiveness of Leadership and Management: The tutor is a very good manager of her class. For example at the beginning of the session she courteously waited for learners to turn up. As they waited she engaged the students in general conversation. H&S awareness was very good.
Evaluation Feedback: A very strong session which was not compromised in any way.
MALTON
Scampston Hall
Malton, North Yorkshire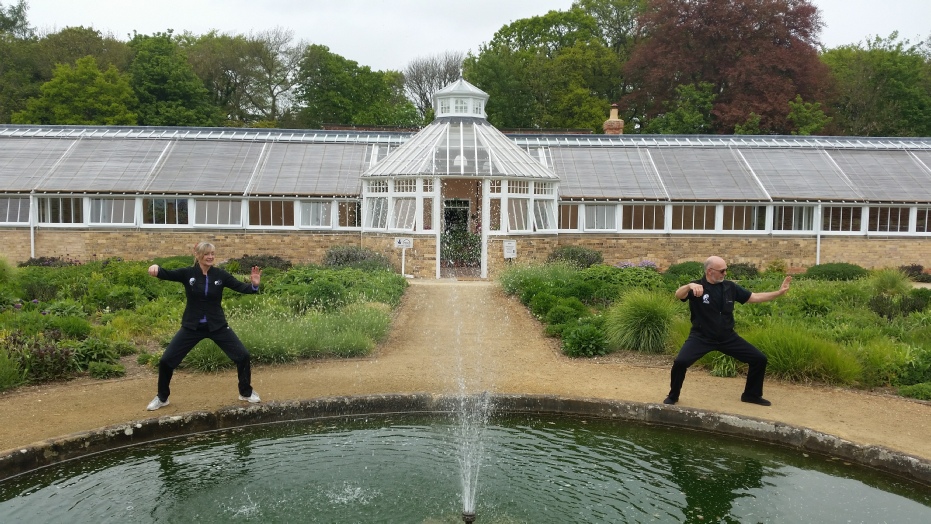 Above - Betty and Senior Instructor Glynn Townley warm up in front of the refurbished greenhouses, ahead of giving Tai Chi lessons to groups in the manicured gardens of Scampston Hall. This included a group of partially sighted participants enjoying Tai Chi basics for the first time.
A fantastic day out - we really enjoyed our visit there, and so can you! - check it out at www.scampston.co.uk
NOTTINGHAM
Amy Taylor started training with UK Tai Chi in 2015, to learn how to teach Tai Chi to Adults and returned to further her knowledge this year. It was lovely to welcome Amy back who is a trained Dance Instructor working out of Nottingham, teaching all age groups from Ballet Tots to Tai Chi for Adults (as above). Amy is a specialist in structure, balance and physical movement, along with her teaching skills this makes Amy a very successful and knowledgeable Tai Chi Teacher. You can contact Amy via this website where I will forward enquiries to her. I look forward to working with Amy for years to come.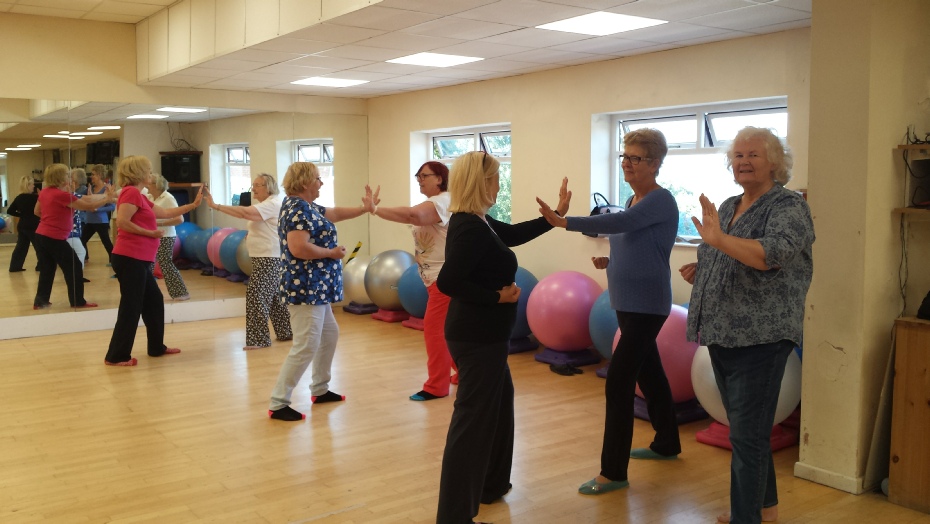 Above - Adults practicing Push Hands in Nottingham with Amy Taylor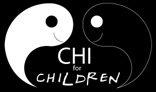 Copyright © 2007-2019 UKTAICHI