Coronavirus Notice
Due to COVID-19, there are no face-to-face classes until further notice. For more information about any class or to book a virtual lesson, please contact Betty.
Tai Chi is becoming increasingly regarded as an ideal form of exercise, not only for adults, but for children as well.
Tai Chi for Schools

UK Tai Chi has been delivering ground-breaking initiatives in primary and secondary schools for some years and although we recognise that it is important to give children the opportunity to develop by means of exercise, our programme ™'Chi for Children' (for 5-10 year olds) has b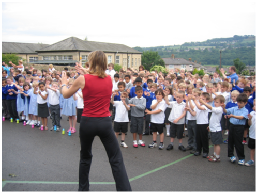 een specifically designed to develop concentration, discipline, focus and improve attention levels. These unique courses are derived from Tai Chi and Qigong, but adapted to encourage, excite and enthuse a younger participant.
At several schools across the country Tai Chi/Qigong is being undertaken with results proving that, not only does it have physical benefits, but Tai Chi can also have a positive effect on a child's mental abilities.
For example, following a session of Tai Chi, children have gone on to show considerable improvements in their exam performance and at a basic classroom level improved their behaviour and concentration
Tai Chi also breaks down barriers and encourages pupils who may dislike P.E., (its sweaty), are culturally exempt from mainstream sports, who feel physically unable to take part in more immediately demanding sports or who shy away from team games. This broad accessibility means that every child undertaking a course can derive great benefits in self-esteem, self-belief and self- confidence. All round, Tai Chi and its related exercises can be very empowering to children as well as providing all of the other recognised benefits.
In order to support training we offer the resource 'Chi for Children - A Practical Guide to Teaching Tai Chi and Qigong in Schools and the Community'.

Improve your Childrens Health and ©Create Calmer Classrooms

The programme contains exercises for mind and body, to help improve concentration and attention levels.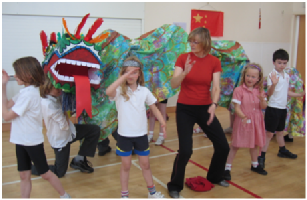 • Regular practice improves general health & wellbeing.

• The programme provides an opportunity for all pupils to participate in a traditional but innovative form of exercise for schools.

• Tai Chi breaks down barriers and encourages pupils who normally dislike, or who are culturally exempt from mainstream sports.

• Tai Chi can be practiced anywhere/anytime. parents/carers/teachers would benefit from being involved in this art.
Yorkshire Primary PE and Sport Premium Awards 2016
I am very pleased to hear that Moortown Primary School, Leeds has won an award at the Yorkshire PE and Sport Premium Awards 2016. The event was hosted by Olympic bronze medallist Steve Parry, Moortown received their award for West Yorkshire winners in the Broader Sporting Experience category.
Quote: 'Your application fulfilled criteria, sustainability and creating a measurable impact on pupils.'
Moortown Primary has embraced Tai Chi. When I was invited in to the school to deliver 'Chi for Children' I was very impressed by the overall acceptance and openness to a different exercise experience'. I am very pleased for the school, staff and especially the students.
See more about the school on www.moortown.leeds.sch.uk

How Moortown worked towards their achievement:
Additional Funding:
"The government is providing additional funding to improve provision of physical education and sport in primary schools. This funding is ring-fenced and therefore can only be spent on provision of PE and sport in school. Each school receives £8000, plus £5 per pupil on roll, totalling around £9,000 each year (based on 210 children in school). At Moortown Primary, we pride ourselves on being a happy and healthy place to learn. We've developed an action plan to ensure this funding is invested (rather than 'spent') to maximise the long term impact of our PE provision for pupils and staff"
Teacher Training:
UK Tai Chi runs highly acclaimed 'Train the Trainer' courses. Giving teachers/teaching assistants the opportunity to learn how teach Tai Chi themselves. Thus offering sustainability for schools and ongoing opportunity to offer this holistic Art to all pupils in the school and community. This training comes in 3 modules and you can read more in this website under 'Teacher Training.
Contact Betty for more information.